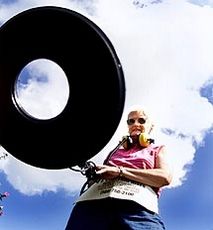 Seen in this treasure?s-eye view with her prized underwater metal detector, Eleanor Hube may not seem so imposing. But she?s known as a master finder ? if the sand can swallow it, she can most likely dig it out.
.(Staff photo by KEVIN MINGORA)
By MEG MURPHY,Staff writer
September 04, 2001
Buried treasure is just another job for a master detector

SOUTH YARMOUTH - At a recent beach wedding in Dennis, an invited guest arrived carrying a weird accessory. The pole with a coil at the end hardly looked romantic, but its owner was invited to spend a day with strangers on account of its magic properties.
Eleanor Hube, metal detector specialist, took the invitation as yet another confirmation of her passion. The self-described former "normal housewife" picked up her first detector about 15 years ago and has not looked back.

Today she is a master treasure-hunter. She has won awards in competitions worldwide, and dozens of people on beaches all over Cape Cod turn to her for help each summer to find something swallowed by the sand.

Lost diamond rings, gold wedding bands, priceless earrings, even $5,000 dentures or sets of hotel keys - these are the treasures, some with sentimental value and others purely practical, that Hube sets out to find from her headquarters in South Yarmouth.

People can either rent a detector from Hube at JE Enterprises or pay her to scout out the lost item herself.

But it's not just business. The thrill of the hunt, the sense of universal rightness when an item is found, is so exciting that Hube often spends her free time out on beaches with her detector.

The science of detecting is simple enough: The coils at the base of the device send a signal into the ground, which bounces off metal objects. A control box on the detector's pole processes that signals, and alerts Hube to the treasure below.

While that may seem like a tidily explained process, consider the bride and groom who invited Hube to bring her detector to their wedding last week.

An omen at low tide
A year ago, fianc? David Atkinson came into her shop utterly distraught because a platinum and diamond engagement ring for his beloved Karen Mazurak had been lost.

Hube gave Atkinson instructions on the art of detecting, and rented him her own designer White's PI Underwater Detector - since the ring was presumably lost in the water at Dennis Seashores in Dennisport. She even offered to close her shop and come help Atkinson and his father if they did not find the ring before high tide.

The men began a desperate hunt along the waterfront, and within an hour, despite several false hopes over metallic trash, they located the engagement ring.

It would seem the laws of science and customer service appear satisfied and life goes on, right?

But the engaged couple were moved by the experience. In a letter to Hube, Atkinson described the find as a sign, a positive omen, that a greater power agreed he and Mazurak should be married. The couple set their wedding date for a year to the da hour that their ring was found, and they invited Hube to the ceremony.

Viking treasure
Assigning such emotional import to detecting does not surprise Hube. She often uses religious terms when describing her quests, and clearly takes pride in the many times she has found and returned objects of great sentimental value free of charge.

"Usually I leave it up to my detector and the good Lord that I am going to walk over a lost thing," Hube said, sitting in her shop on a relatively quiet day last week.

She walked over to a display case and returned with three items: acondom wrapper, a tiny glass liquor bottle with a metal cap ring and a thumbnail backing to an earring.

These are her latest finds at Parkers River, and she does not see them as any less important - at least on a skill level - than the diamond rings she scouts out for hire each season. These tossed-off items might seem like junk, but they require intense concentration and finesse to locate, so small are they, and Hube is proud to have dug them up.

"I was a natural to detecting. I have a natural way of pinpointing and retrieving," Hube said, explaining her success in contests all over the world.

She has detected gold coins at castles in England, found Viking coins on expeditions with archaeologists in Russia and even found a beautiful double-snake ring with diamonds in the eyes on a trip to Okinawa, Japan

Silver and code
Hube is in on the coded language whispered by competing detectors. "Did you see Charlie?" means "Have you seen a gold ring?" And if you say, "Yes, he had a sparkle in his eye," that means "I found a diamond," while "We just saw Joe. He just went by" means the detector found a silver ring.

For now, Hube is trying to sort out a ring mystery at Parkers River. She set out to find a white gold ring lost by a swimmer. Instead, after much work, she found a yellow gold ring.

"It wasn't easy. I had to do a lot of digging of trash and fight the weeds," Hube said.

And, in keeping with the philosophy she extends to all her rental customers, she decided to advertise the accidentally found ring and return it to its owner. Now a woman who lost a platinum diamond ring with a special design has called hoping the found ring was the one she lost.

So Hube has another search on her hands. She is just waiting for a really low tide and for an ache in her neck to subside, and then she will be back on the hunt again